Browsing thru a recent edition of the Danish Utilitiy Moldel publication I came across an invention where my first thought was "I want one of those". That is very rare since many utility models are pretty useless and obvious (no offense meant).
The invention I came across was a collapsible wheel barrow. To my surprise Christian Friis Bach – Danish Minister of development – was the inventor.

Investigating the invention I found out although the invention is protected in Denmark as a utility model it has been given free to the developing world as the "World barrow". On a webpage for the invention it is described as an "open source" project – designed to be produced free of charge in developing countries.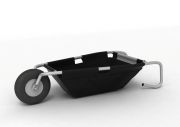 This is a good example of mixing IP protection in one place and letting the invention free in another place.
 
Posted by: Beyer
Categories: